Roofing Sheets Manufacturers & Suppliers in Goa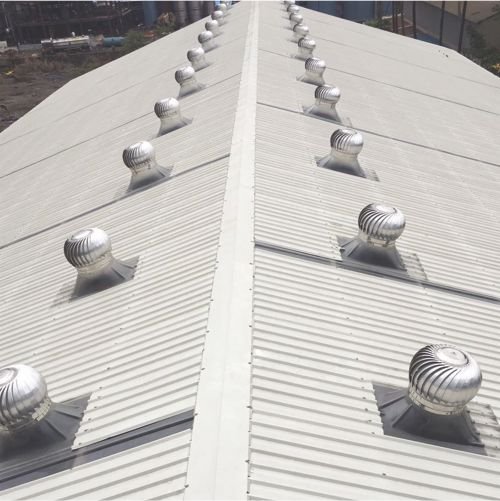 Whenever you need the shelter of a reliable roof, think of Faisal roofing solutions. We strongly believe in the philosophy of "you think, we create". We passionately create our products. We are committed towards customers satisfaction and customer delight. We use modern construction method and innovative technologies to offer new edge roofing solutions. We are serving various industries, factories, commercial sector, retail industry, warehouses, agricultural, domestic, storage sectors. Our roofing structures and buildings are prefabricated and pre-engineered which saves cost of extra raw materials, labor and facilitates timely completion of projects. We are now leading roofing sheet manufacturers in Goa.
Quality is our highlight and we are a ISO9001:2015 certified company. Our brands are divided into two categories:
1.Faisal lite
The roofing sheets and roofing accessories.
2.Faisal shine
It includes color coated metal sheets.
We are now more than happy to increase our customer base and become a preferred roofing sheet manufacturers in Goa. We offer our products at a reasonable rate and offer our customer what they want. We minutely study our client's requirements and customize our structures as per their requirements. We also offer many value added services like pre-construction panning, site inspection, post installation quality checks etc. Faisal roofing solution has years of experience and expertise to manufacture superior quality roofing sheets and prefabricated structures. We specialize in steel and polycarbonate roofing sheets. We also offer insulation sheets, roofing accessories, turbo ventilator, roofing installation services, multiwall sheets, hollow sheets, metal purlin, Puf panel, color coated sheets, UPVC roof sheets, metal coils, trapezoidal sheet, galvalume sheet, Z purlin, polycarbonate base etc.
Our roofing sheets are unique and long lasting. They are fire resistant, environment friendly, recyclable, resistant to harsh weather condition and possess high tensile strength. Due to this unmatched quality of our structure, we have satisfied many customers and become a leading roofing sheets supplier in Vadodara also. Our product range in roofing sheet include:
1. Faisal shine roofing sheet
2. Curved roofing panel
3. Faisal shine PGFI Roofing sheet
4. Faisal shine super decking sheet
5. PGFI galvanized roofing sheet
6. Corrugated sheets
7. Faisal shine clip and lock sheet
8. Faisal lite transparent roof
9. Metal roofing sheet
10. Pre coated roofing sheet
We also deal in pre-engineered buildings and various kinds of prefabricated sheds like industrial sheds, factory shed, prefabricated office space, auditorium sheds, poultry farm sheds, prefabricated warehouses, labor colonies etc. We successfully completed more than 500 projects and served over 750 satisfied customers. We are setting new benchmarks as a progressive roofing sheets suppliers in Goa. We continuously experiment with newer and better materials and innovative technologies to give the best services to our clients. We also have a fledged research and development wing which comes up with innovative solutions. We religiously follow quality control regimen.
We stretch beyond our duties as roofing sheets manufacturers and offer preconstruction planning, consultancy and site inspection services. We study the client's roofing needs thoroughly and come with the best solution at an affordable rate. The main product categories which we manufacture are:
1. Roofing sheets
2. Flooring sheets
3. Roofing accessories
4. Ventilator
5. PEB fabrication and installation
6. Purlins
7. Insulations
8. Decking sheet
Faisal roofing solutions is a one stop shop for all your roofing needs. The highlighting features of our roofing sheets are:
*Easy installation
*Light weight and durable
*Cost efficiency
*Corrosion resistant
*Environment friendly
*Low maintenance cost
*High resale value
*Easy relocation
*Surface coated to prevent rusting
*UV protected to prevent color loss
*Resistant to harsh weather condition
*Modern design
*Use of technology and computer aided design
Faisal roofing solution is built on the foundation of strong vision and strives to deliver a strong and reliable roofing solution and prefabricated structures. Our dedication towards customer's satisfaction is unparallel treat our customers as a king. Even after the installation and assembly we take care or valued customers and continuously ask for feedback. Whenever there's an issue with our roofing sheets and other prefabricated structures, we address it immediately. We leave no stone unturned for our customer's delight. We abide by all the ethical codes of construction and follow all the legal guidelines for construction.
PREFABRICATED BUILDING MANUFACTURERS AND SUPPLIERS