Roofing Sheets Manufacturers in Mumbai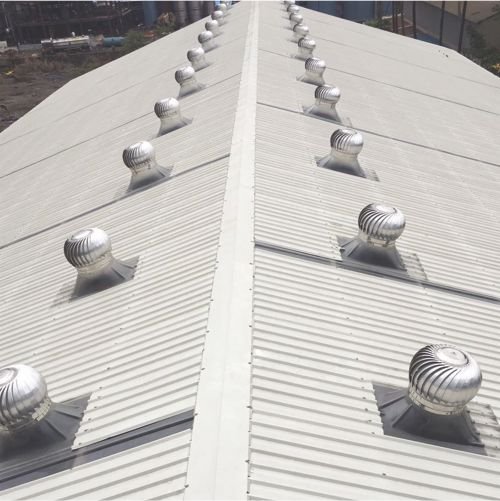 A perfect roof acts like a protective shelter for people and things underneath it. Over the past few decades, the construction industry in India is witnessing a revolution. The roofing sheets which are used in today's construction industry comes packed with unique features which increases the lifespan of any type of roof. Nowadays, due to the growth in industrial application the customers are in search of a modern and innovative roofing sheets as they are not satisfied with the conventional ones. Faisal roofing solutions is the leading roofing sheets manufacturers in Mumbai.
Our roofing sheets offer good value for the investment. We manufacture different kinds of roofing sheets for commercial, industrial, and domestic purposes. We are the manufacturers and traders of roofing sheets, roofing accessories, trapezoidal sheet etc. Our roofing sheets are known for its durability and sturdiness. We utilize the modern machinery and the finest raw material in manufacturing the roofing sheets. We, as a reputed roofing sheets manufacturers in Mumbai, comply with the set industry norms and guidelines. We follow all the local codes and are ethically responsible for manufacturing environment friendly roofing sheets. We manufacture:
Roofing sheets
Roofing accessories
Polycarbonate sheet
Insulation sheets
Hollow sheets
FRS roof sheets
Some of the unique features of our roofing sheets are:
*Corrosion resistant
*Surface treatment coated
*Easy installation
*Light weight and durable
*Low maintenance cost
*Use of technology and computer assisted design
*Environment friendly
*Easy relocation
*Resale value
Now, let's look at some of the popular types of roofing sheets used in the construction industry.
1.Corrugated roofing sheets
Corrugated roofing sheets have repetitive folds on their surface. The ridge and grooves make them stronger and durable. Corrugated roofing sheets are mostly used in agricultural building, garages, domestic sheds etc. They can withstand harsh weather condition. Depending on the pollution levels in the region where they are installed, they can last up to 5-10 years. These roofing sheets are coated with polyester paint or PVC plastisol. PVC plastisol coated corrugated sheets are durable and last up to 25-30 years.
2. Polycarbonate roofing sheets
As a leading polycarbonate roofing sheet manufacturers in Thane Faisal roofing solution is setting a benchmark. The polycarbonate roofing sheets are widely used in places like swimming pool, walkways, display signboards and many other commercial and industrial building. They are insulated, weather resistant, strong, durable and are available in variety if textures and design. Polycarbonate roofing sheets can be foam-based and clear polycarbonate sheets. Foam based roof sheets are light weight and long lasting. They are used in warehouses, domestic sheds and garages. Clear polycarbonate sheets are UV protective film layers and they are used in patios, greenhouses, sunroom and places which require natural light through roof.
3.Metal roofing sheets
They are made up of metals like Aluminium, Zinc, Copper or tin and are used in rooftop of backyards, garages, garden, domestic and industrial building. They are resistant to heavy wind, rain, snow and pests. Faisal roofing solution is renowned name as metal roofing sheet manufacturers in Mumbai. Metal roofing sheets possess high insulating properties and don't crack or break easily.
4. Plastic roofing sheets
Not much popular or preferred these days. They are mostly used as garden sheds or for temporary structures. For a better quality you have to spend extra money which increases the cost of installation also.
Faisal roofing solution has all the needed expertise and experience in manufacturing bast quality roofing sheets. We specialize in steel and polycarbonate roofing sheets. We customize your roofing sheet requirements base on your budget and preferences. Our roofing sheets are affordable as compared to other roofing sheets in the market. We also offer insulation sheets, turbo ventilator, roofing accessories, roofing installation services, hollow sheets, multiwall sheets, metal purlin, Puf panel, color coated sheet, UPVC roof sheets, metal coils, trapezoidal sheet galvalume sheet, Z purlin, polycarbonate base etc. Our roofing sheets and other roofing solution are praised and preferred for quality and durability. We as manufacturer, trader, supplier of roofing sheets and roofing accessories strive for customer satisfaction to the maximum level. We engage with follow up and feedback process after installation and ensure that our customer get a good after sales services and have a delightful experience.
PREFABRICATED BUILDING MANUFACTURERS AND SUPPLIERS