Roofing Sheets Manufacturers & Suppliers in Navi Mumbai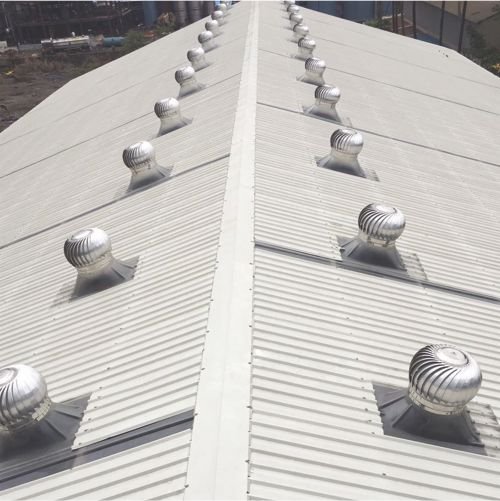 A strong foundation is needed to erect a solid building. In the same way a strong roof is needed to provide safety and shelter to element underneath that building. We, at Faisal roofing solution strongly believe in this philosophy. The construction industry in India is witnessing a revolution. The conventional method of construction is not applicable today. Modern technology and innovative technique have replaced the traditional methods of construction. Prefabricated and pre-engineered sheds and structures are getting popular these days. They are easy to assemble, dismantle and reassemble. Faisal roofing solution is a reputed roofing sheet manufactures in Navi Mumbai.
We manufacturer roofing sheet, roofing accessories, polycarbonate sheet, insulation sheet, FRS roof sheet, hollow sheet, turbo ventilator and provide roofing installation services. We customize the roofing requirements of our client's as per their choice and preferences. We take into consideration the budget of our client and offer a reasonable rate as compared to other roofing sheet in the market. Due to the unmatched quality and affordable rates, we have become the leading roofing sheet manufacturers in Navi Mumbai.
We offer a variety of roofing sheet which includes:
1. Faisal shine roofing sheet
We manufacturer Faisal shine warehouse roofing sheet which is a sunlight-based charge controller. It conditions crude force of different sun-oriented boards. The outstanding features are long functional life and easy operation. They are corrosion resistant, durable, surface coated, and water proof. It I mostly used for residential and commercial purposes.
2. Curved roofing panel
We customize different sizes and thickness and offer our customers what they want. The features include light weight, fine finish and high durability. We are a leading curved roofing sheet suppliers in Pune. These roofing sheets are color coated and galvanized, water proof and corrosion resistant. They are made up of aluminum, steel, and stainless steel.
3. Faisal shine PGFI roofing sheet
The features include high strength, high load bearing capacity and superior finish. They are color coated and galvanized. Cold rolled manufacturing technique is used.
4. Faisal shine super decking sheet
As per the client's requirements, we manufacture unique steel-concrete composite deck. Super deck is supported by metal supports called joists, anchors or beams. It is used to support the concrete or insulating membrane of a roof. Super deck is a unique structure and has the embossment in the vertical ribs that bond with the concrete slab to develop a unique floor system. It blends steel's versatility with concrete's durability. It also has great load capacity, uncluttered appearance besides being weather proof and an economical option.
5. PPGI galvanized roofing sheet
We are the leading PPGI galvanized roofing sheet suppliers in Navi Mumbai. The highlighting features include high strength, durability, easy installation. They are used for making roofs in relief camps.
6. corrugated sheets
We manufacture trapezoidal sheets which are made with cold rolled technique and trapezoidal in shape. It is made with steel and is corrosion resistant and water proof.
7. Faisal shine clip and lock sheet
The clip and lock sheet are easy to install in screws. It prevents leakage and has long life.
8. Faisal lite transparent roof
It is a light transmitting construction material, offering light transmittance over 85%. It is made of thermosetting plastic which is several times strong that of steel or aluminium sheet. They are corrosion resistant, and long-lasting. They can withstand high temperature besides light weight.
9.Metal roofing sheet
These metal sheets are very reasonable and made with galvalume and surface treated with galvalume. The features include superior tensile strength, durable, and long life.
10. Pre coated roofing sheet
These are color coated, water proof, corrosion resistant durable sheets. They are made up of steel and best quality raw material using modern tools and technology. These products are use for the roofing and cladding of agricultural, domestic, commercial and industrial buildings.
Besides this we also manufacture roofing accessories that are use for roofing purpose in residential, commercial and industrial application. These are also surface treated and color coated. We manufacture it with quality raw material and the are known for its strength, easy maintenance, longer life and affordable price range.
At Faisal roofing solution we manufacture roofing sheets to provide ultimate shelter and a best roofing need solution.
PREFABRICATED BUILDING MANUFACTURERS AND SUPPLIERS