Roofing Sheets Manufacturers & Suppliers in Vadodara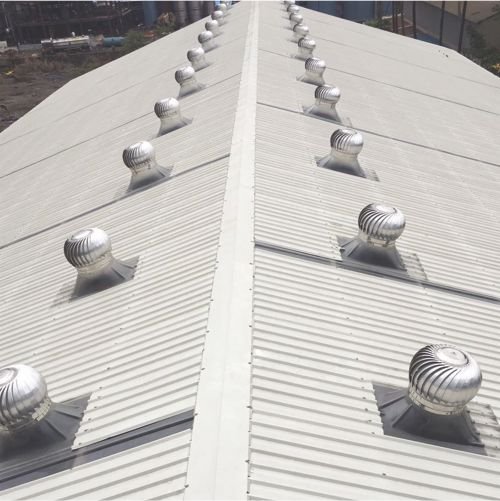 A prefabricated roofing sheet is a revolution in construction industry. A prefabricated roofing sheet is designed using fixed stock of raw material and a unique manufacturing method that beautifully fulfils a wide range of structural and aesthetic design needs. At Faisal roofing solution, our team of expert team and engineers build panels in a factory- controlled environment. Our engineers consider the factors like roof slope, live loads, dead loads, collateral loads, wind uplifts, bay spacing internal crane system and maximum size and weight of fabricated members. We are now the leading roofing sheet manufacturers in Vadodara.
We are the manufacturers and traders of roofing sheets, roofing accessories, and a wide range of other products. We offer the best insulation, ventilator, purlin, pre-engineered building etc to our customers. We use modern technique and innovative technology to manufacture the roofing sheets and other prefabricated structures. It is due to our good design and versatility that we have become the reputed roofing sheet manufacturers in Vadodara.
Here's 8 reasons why you should our roofing sheets
1. Higher strength and load bearing capacity
2. Color coated for a better finish
3. Weather resistant
4. UV protected to prevent colour loss
5. Aesthetic and appealing
6. Genuine and standard mark
7. Wide product range to choose
8. Long life, corrosion resistance
We have a team of expert designers, skilled workforce, technicians, engineers, quality analysts and procurement officers who perform their tasks diligently. The unique features of our product are appreciated by our satisfied customers. Our products are widely used in warehousing, industries like automobile, FMCG, retail, real estate industry, agricultural sector domestic and many more. Now, we are progressing as the best roofing sheet manufacturers in Ahmedabad.
The two main brands which we offer are:
Faisal shine
The colour coated roofing sheet
Faisal lite
The light weight metal roofing sheet and roofing accessories
We manufacture both steel metal roofing sheet and the polycarbonate roofing sheet. We also manufacture flooring sheet, turbo ventilator, purlins, decking sheet, insulation, PEB fabrication. The main types of roofing sheets which we manufacture are:
1.Faisal shine curvaceous roof profile sheet
2.Faisal shine industrial roofing sheet
3.Faisal shine UPVC roofing sheet
4.Faisal shine PVC corrugated roofing sheet
5.Faisal shine PUF sheet
6.Faisal lite polycarbonate roofing sheet
We keep in mind the quality and standards to a great extent. Our prefabricated roofing sheets are tough and reliable and gives a creative outcome as we use a customize software for designing. Some of our other promising products are:
*Faisal shine super decking sheet
*PGFI galvanized roofing sheet
*Faisal shine clip and lock sheet
*Faisal lite transparent roof
Our color coated, water proof, corrosion resistant, durable roofing sheets are best in the industry. It is made up of steel and best quality raw material using modern tools and technology. These products are used for the roofing and cladding of agricultural, domestic, commercial and industrial buildings. We also roofing accessories that are used for roofing purpose in residential, commercial, and industrial application.
We are a client-centric company. Our clientele include reputed names like Hindustan petroleum, Amazon, Aditya Birla, D.Mart, Hindustan Unilever and we are moving forward as a leading roofing sheets suppliers in Vadodara.
Any prefabricated shed requires a roof panel which is chose as per industry need. We cater to this need and manufacture customized roofing sheet as per the client's requirement. Not only this we also make it available to our client at an affordable rate. We dive deep into the client need and thoroughly study their requirements and provide exactly what they want. We offer certain value- added services like preconstruction planning, site inspection, consultation and advisory services. We engage with our customers even after purchase and aim to achieve a delightful post purchase experience. Our roofing sheets are like a perfect shelter for all elements beneath it. It is built with a strong thought in mind to provide a sturdy roof for all our customers. We as a responsible roofing sheet manufacture abide by all the ethical codes of construction and the legal codes of the region.
PREFABRICATED BUILDING MANUFACTURERS AND SUPPLIERS