Roofing Sheets Manufacturers & Suppliers in Thane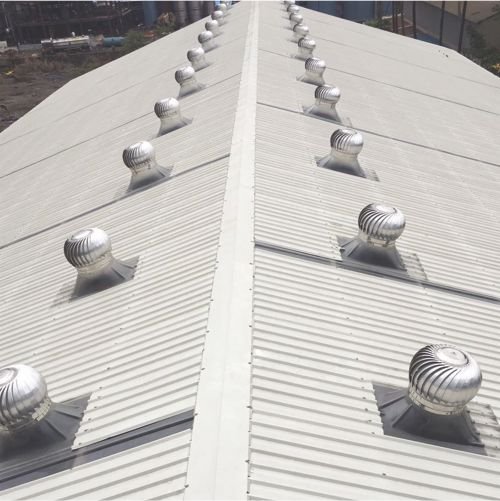 From a very humble beginning in 1991, Faisal roofing solution private limited now has become a leading manufacturers and traders of roofing sheets, roofing accessories, trapezoidal sheet and much more. Our product range are known for its quality and durability. We abide by the set industry norms and guidelines. We manufacture our prefabricated structures like factory sheds, industrial building shed, warehouse shed, poultry farm sheds, auditorium sheds using the finest raw materials and modern machines. Our product is praised for its sturdiness, durability and resistance to corrosion. Apart from being the leading roofing sheet manufacturers in Thane.
We provide the roofing fabrication, installation and assembly services at an affordable and reasonable rate in the market. Our state-of-the-art infrastructural facility is equipped with modern machinery and is regularly updated. Our client base include reputed names like D.Mart, Hindustan Petroleum, Hindustan Unilever, Aditya Birla, Amazon. We are currently serving the regions of Vasai, Mira Road, Versova, Surat, Pune, and progressing forward as renowned roofing sheet manufacturers in Thane also. Our adept managing director Mr. Salim Rehmani, has the vision and insights to understand the market, analyze and adapt to the changes in the market.
We offer roofing sheet, roofing accessories, roofing installation service, polycarbonate sheet, insulation sheet, turbo ventilator, hollow sheet, multiwall sheets, metal purlin, Puf panel, color coated sheet, trapezoidal sheet, galvalume sheet etc. Due to our expertise and commitment for client's satisfaction we have become a reputed roofing sheet manufacturers in Navi Mumbai.
Our roofing sheets come packed with unique features like resistant to heat and fire, environment friendly, recyclable besides being strong and durable. Our roofing sheets are used for the following application:
1.Warehouesing
3.Automible industry
5.FMCG
7. Real estate industries
2.Pharmacy industry
4.Textiles
6.Retail industry
8. Petroleum industries
We are a client-centric organization and fully committed to customer's satisfaction. Some of our highlighting features as a most preferred company are
*Modern and innovative technique
*Timely delivery and easy installation
*Quality checks and inspection
*Highly professional approach
*Expert and dedicated team
We offer roofing solution in all segments and believe in delivering products as per client's requirements. We manufacturer both metallic and polycarbonate products. Faisal roofing products are divided into two brands:
1.Faisal shine
It includes color coated metal sheets
2.Faisal lite
The roofing sheets and roofing accessories.
We also manufacture flooring sheets and turbo ventilator, purlins, decking sheet, insulation, PEB fabrication. We offer creative design and use technology which involves computer aided design CAD for a better output. As a top roofing sheet supplier in Thane. we are trusted by our clients. We also offer many value added services like preconstruction planning and site services. Whenever we get a roofing assignment, we analyze the requirement and offer customized design at an affordable rate. Our manufacturing processes are ISO 9001:2015 certified. We follow all national standards and abide by the ethical codes too.
The roofing sheets are manufactured using premium quality raw materials and are UV protected to prevent color loss. Our roofing sheets are praised for long life, light weight, fire resistance, weather resistance etc. We test our roofing sheets on various parameters for optimum quality and performance. The types of roofing sheets which we provide are:
1.Faisal shine curvaceous roof profile sheet
2.faisal shine industrial roofing sheet
3.Faisal shine UPVC roofing sheet
4.Faisal shine PVC corrugated roofing sheet
5.Faisal shine PUF sheet
6.Faisal lite polycarbonate roofing sheet
All these roofing sheets are supplied to the customers on multiple model and sizes as per their requirements. All our roofing solution are manufactured keeping in mind the industrial quality and standards. Our roofing sheets are unbreakable and sturdy. Our roofing sheets are ultimate solution for providing shelter and protection to all element underneath it. We also provide roofing accessories and roofing fabrication at a reasonable rate. It includes roofing fastener, gable flashing, profile ridge, roof cleat, corner flashing, roof end trim, rain water gutter, ridge, down take pipe etc. We the best supplier of all types of roofing accessories. We also provide insulation like rockwool insulation, fiber glass wool insulation.
PREFABRICATED BUILDING MANUFACTURERS AND SUPPLIERS